As the trend of metaverse game development is growing, and tech giants are launching new projects, there is a need to understand the scope and challenges.
The gaming industry is speedily adopting blockchain and metaverse culture. An experienced metaverse game developer can predict how bright the future of his newly launched Metaverse game is going to be. Today, gamers are liking the concept of playing games in the uniquely created 3D world of the metaverse.
Just now Walmart and Roblox have made an announcement regarding the launch of two mega-sized metaverse platforms, named 'Walmart Land' and 'Walmart's Universe of Play', on Roblox. It has attracted the attention of metaverse game development specialists all around the world.
On the other hand, Brendan Greene, the creator of the superhit game PUBG has made a revelation about his next metaverse gaming venture, named Artemis, and it will be featuring NFTs. He is inclined to create a huge virtual world that can be compared to the size of the Earth in which billions of people can play or create comfortably.
A renowned writer, Matthew Ball describes the tech evolution as "A massively scaled and interoperable network of real-time rendered 3D virtual worlds that can be experienced synchronously and persistently by an effectively unlimited number of users with an individual sense of presence, and with continuity of data, such as identity, history, entitlements, objects, communications, and payments". Through his book 'The Metaverse".
An Introduction To Metaverse Gaming
Blockchain is comparatively a new concept to online gaming. Earlier, there was no existence of NFTs and cryptocurrencies that are now an integral part of metaverse gaming. The tokenization of gaming assets has changed the ways we have ever looked upon in the gaming scenario, a few years ago.
Metaverse game development process involves different phases, in which the game producer needs to define the game rules, choose the blockchain network on which the game is going to be played, the types and the number of crypto assets to be included, the rewards, and adding graphics to provide a visual treat to the gamers.
A metaverse game developer would have to choose whether the platform would be centralized or decentralized. Decentralization is on trend, and most gaming companies are already making use of it.
Want to know how the Metaverse games work?
Here are the key points that will help you to get a glimpse of it:
Characters in the Metaverse are represented by the unique avatars of players. Therefore, the virtual embodiments of the players are doing the real action inside the metaverse, similar to the people doing various activities in their real lives.
Generally, metaverse games adopt the Play-to-earn model in which gamers get multiple opportunities to win digital gaming items that can be sold for crypto or fiat currency.
Metaverse offers interactivity. Thus, the players may communicate and collaborate with the other players or invite more social media friends to play games.
AR & VR are the key features of the metaverse that help gamers to have exciting in-game experiences. They are able to participate in various game-related activities with utmost fun and enthusiasm. It's a life-like feeling for them.
Interoperability allows the mobility of gaming assets from one place to another in a hassle-free manner.
Technologies Behind Metaverse Gaming Experience
Metaverse is evolving continuously and tech giants are already coordinating with metaverse game development companies tech giants to produce astonishingly attractive games. Decentraland was among a few companies that took the initiative to develop a metaverse for gaming in which the multiple players were allowed to participate. The Sandbox game is played in a virtual environment that is powered by Ethereum blockchain. It allows the players to create, own, and have control over the virtual space while playing.
It's a money earning opportunity for a metaverse game developer to create a game that can attract hundreds of millions players. The more the number of players, the more transactions would happen, and the more money the game producer would earn. Therefore, the gaming giants don't mind investing a huge amount in developing metaverse games. They know how the games like Axis Infinity, Alien Worlds, Splinterlands, and Farmers World broken all records of success.
Here are some of the next-gen technologies that has helps to carry out metaverse game development to provide more immersive experiences to the players:
AR & VR


Augmented reality (AR) and Virtual Reality (VR) help create a 3D world in which the game is set up. While AR transmutes the real world by adding digital characters and elements, VR would help the player to enter the virtual world through headset and more supporting gadets to have a realistic experience.

Blockchain and crypto assets


A metaverse game developer would use the blockchain technology for decentralization and let the players experience its benefits, such as having proof of ownership, safe and quick transactions of crypto assets, and interoperability.

IoT (Internet of Things)

IoT eases out the metaverse game development procedure by obtaining, collecting, and utilizing physical world's data while creating a virtual world. thus , it becomes easier to connect real-world devices to the gaming items inside the metaverse, and they may function differently with the changing atmosphere.

3D technology

A virtual world of Metaverse is developed using 3D technology. Many fashion brands and real estate companies are already using metaverse for reconstructing the real-world experinces.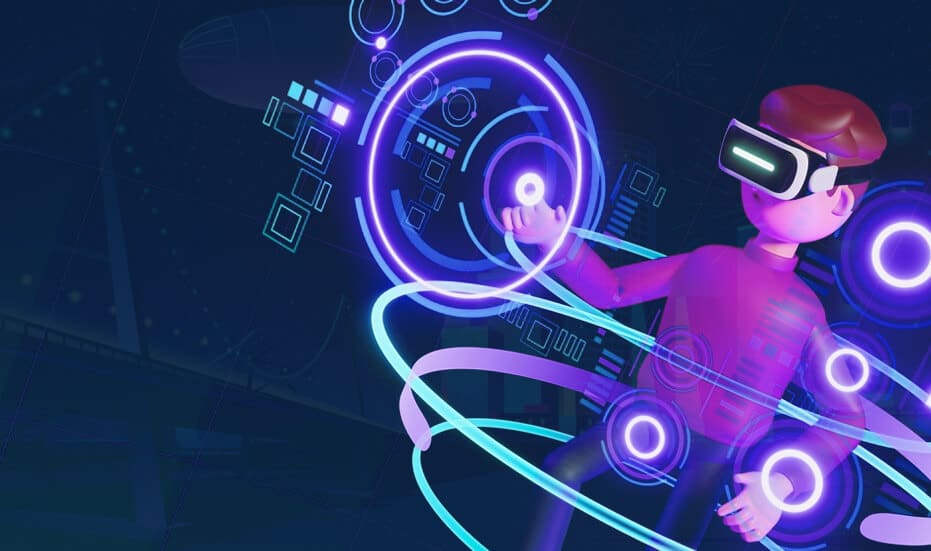 Challenges The Metaverse Game Developer Has To Face
Metaverse game development is not an easy thing to do, as there is always a risk of cyber security issues. Since a massive amount of data is required for development of metaverse game, one needs to ensure complete data safety and protection against the hackers.
A metaverse game developer might also find it difficult to incorporate NFTs in the gaming environment. No metaverse game can attract the attention of gamers in the absence of NFTs as they are used as the digital assets by the players.
Management of user data is another pain point for the game developers because of the heavy inlux. It is also a responsibility of game creators to protect the user data from cyber attackers.
Child control over content is also a challenging part of metaverse game development. Parents can't monitor their all activities of their children, therefore, the metaverse game developer must ensure tha they are providing age appropriate experiences to the players.
Interoperability is still and issue being faced by the game developers as the in-game assets can't to passed on to the multiple gaming platforms with ease.
Metaverse Games That Are Rocking In 2022
Let us discuss some of the most popular metaverse games that are making news in 2022:
Alien Worlds
Axie Infinity
Sandbox
Decentraland
Farmers World
Chain of Alliance
My Neighbor Alice
Krystopia
Illuvium
Conclusion
While metaverse is still in the experimental phase, metaverse game development is still a matter of great interest for big companies. They are impressed with the unparalleled success of Alien Worlds, Axie Infinity, Sandbox, and more such games.
Antier is ready to explore more use cases of Metaverse. Discuss your requirements with our experinced metaverse game developer to seek appropriate guidance and experience.